HENO increased our revenues by >$10,000 per month
Mike told us HENO helped him increase revenues by over $10,000 month through better billing and collections. Here are some of the benefits he realized with HENO:
Accessible Metrics
Great & responsive customer support
Things not falling through the cracks
Better Prior Authorization Management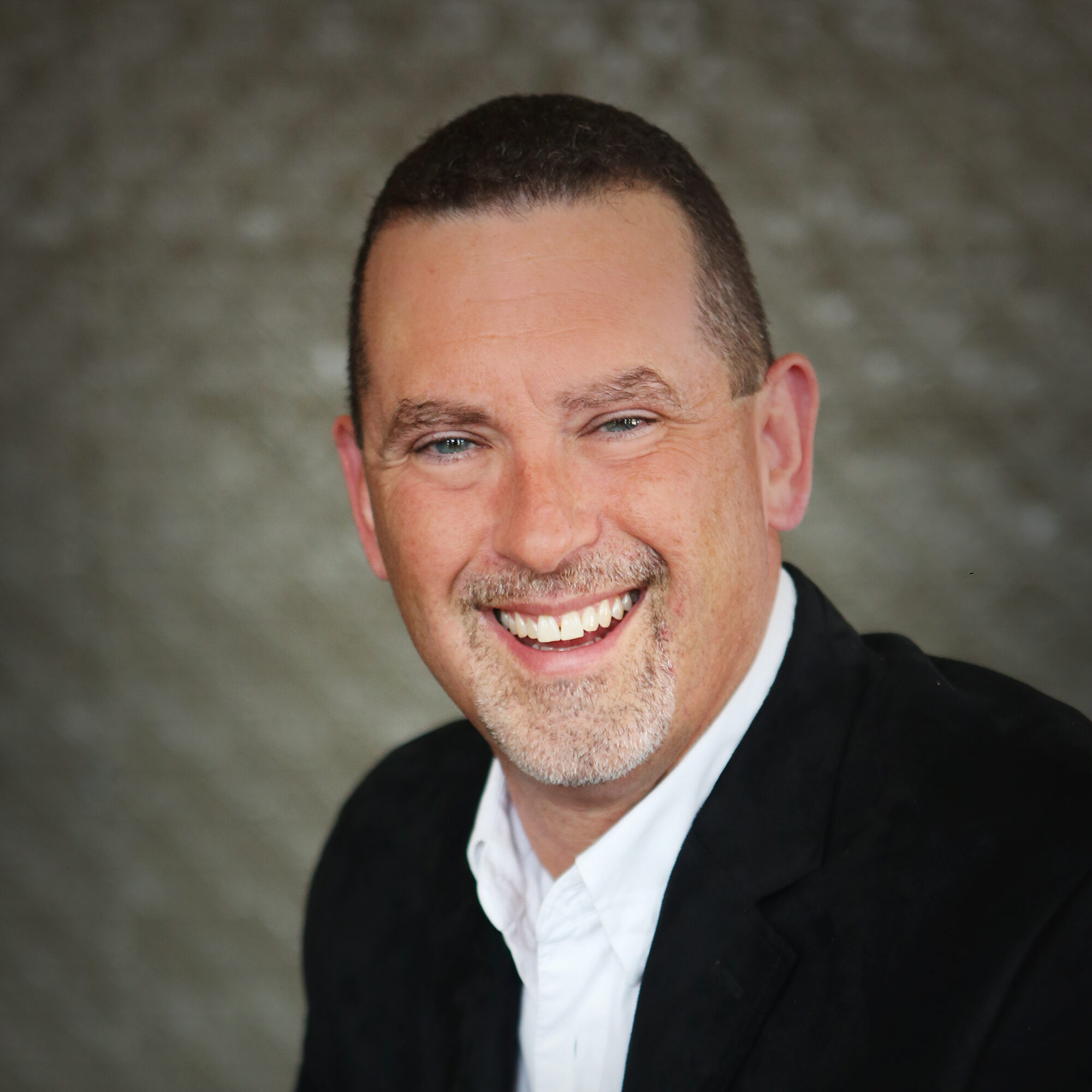 Don't Make a Huge Mistake
$262 Billion Denied Annually
Recent studies reveal that $262 Billion in claims are denied in the USA every year, and that between 40-60% of those denials are never resubmitted. Let those numbers sink in for a moment. You can use HENO Software to do your billing in-house or you can say goodbye to the headaches of billing with HENO's outsourced RCM Billing Services. Now you have multiple ways to stay in the billing fight.
This deny claims first, and ask questions later policy means hard working therapists must find Physical Therapy Billing Software capable of empowering their success (aka fighting the insurance companies). The most beautiful documentation software is less useful than a wheeless car if it doesn't get you paid. Billing Software pays the bills, and if you don't have powerful billing software, all your clinic's revenues will be gobbled up by the Insurance Companies.
The Problem: Most clinicians don't know how to investigate billing software because it's foreign to them. Therefore, we are offering a complimentary zoom consultation for clinicians about how to research, investigate, and analyze billing software. You'll get a free checklist after the call to help you research and find the best billing software, and you'll come away from the meeting with a decent understanding of how to analyze billing software to position your clinic's success.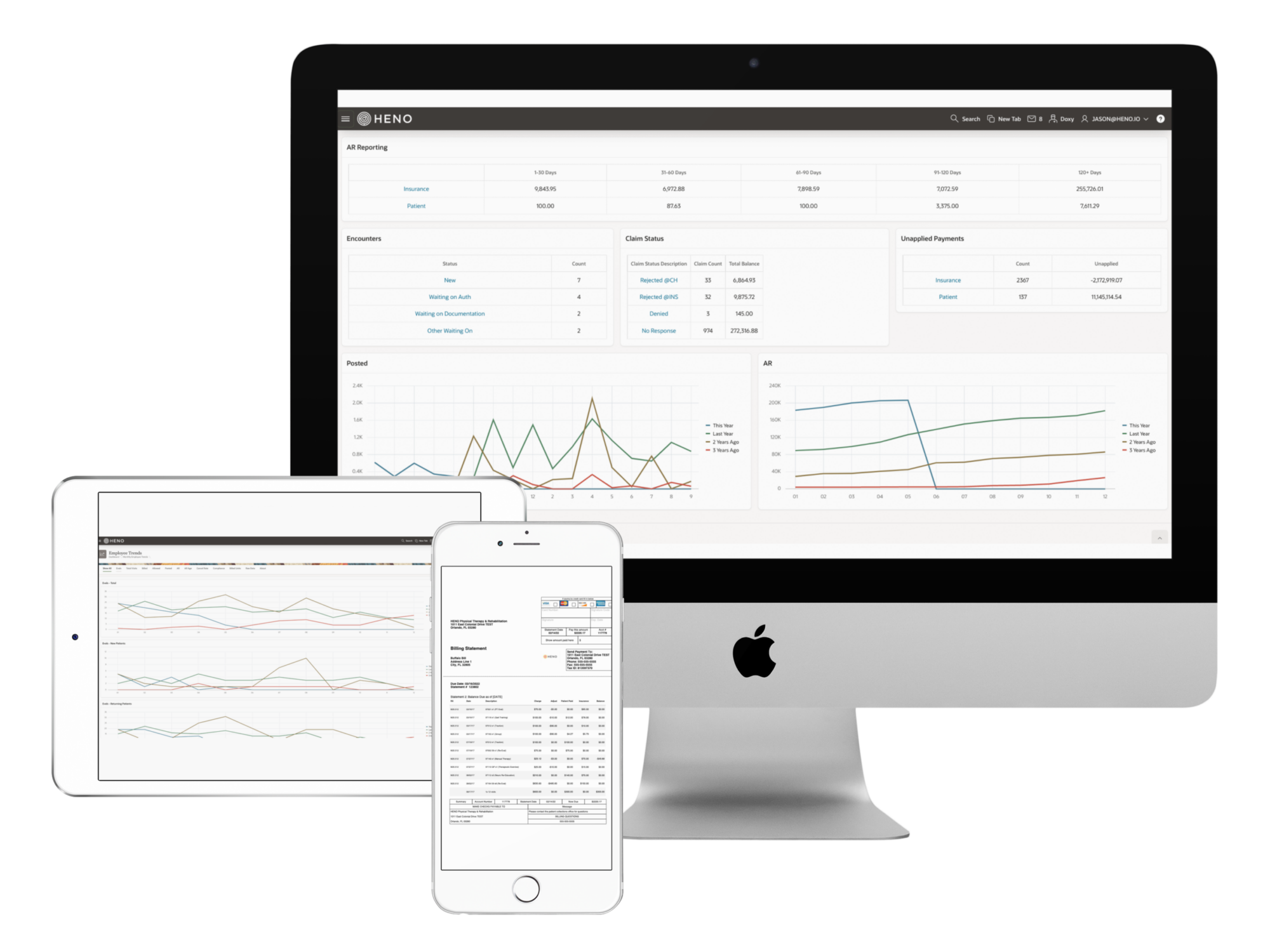 Integrated Clearinghouse
Single Login – Billing & Clearinghouse Software
Using separate billing software and clearinghouse software slows you down, and leads to lost revenues. HENO's single login contains both billing software and clearinghouse software in one. This true all-in-one makes it easy to get paid for your services without the hassle of disconnected systems.
Serious Analytics
Stunningly Powerful Analytics
To stand a chance in the battle against Insurance organizations that deny $262 billion annually, you need efficient and easy to use billing analytics. Simply stated, it must be very easy for you to not only measure performance, but to quickly take action to speed up reimbursements. HENO's billing dashboards display the following: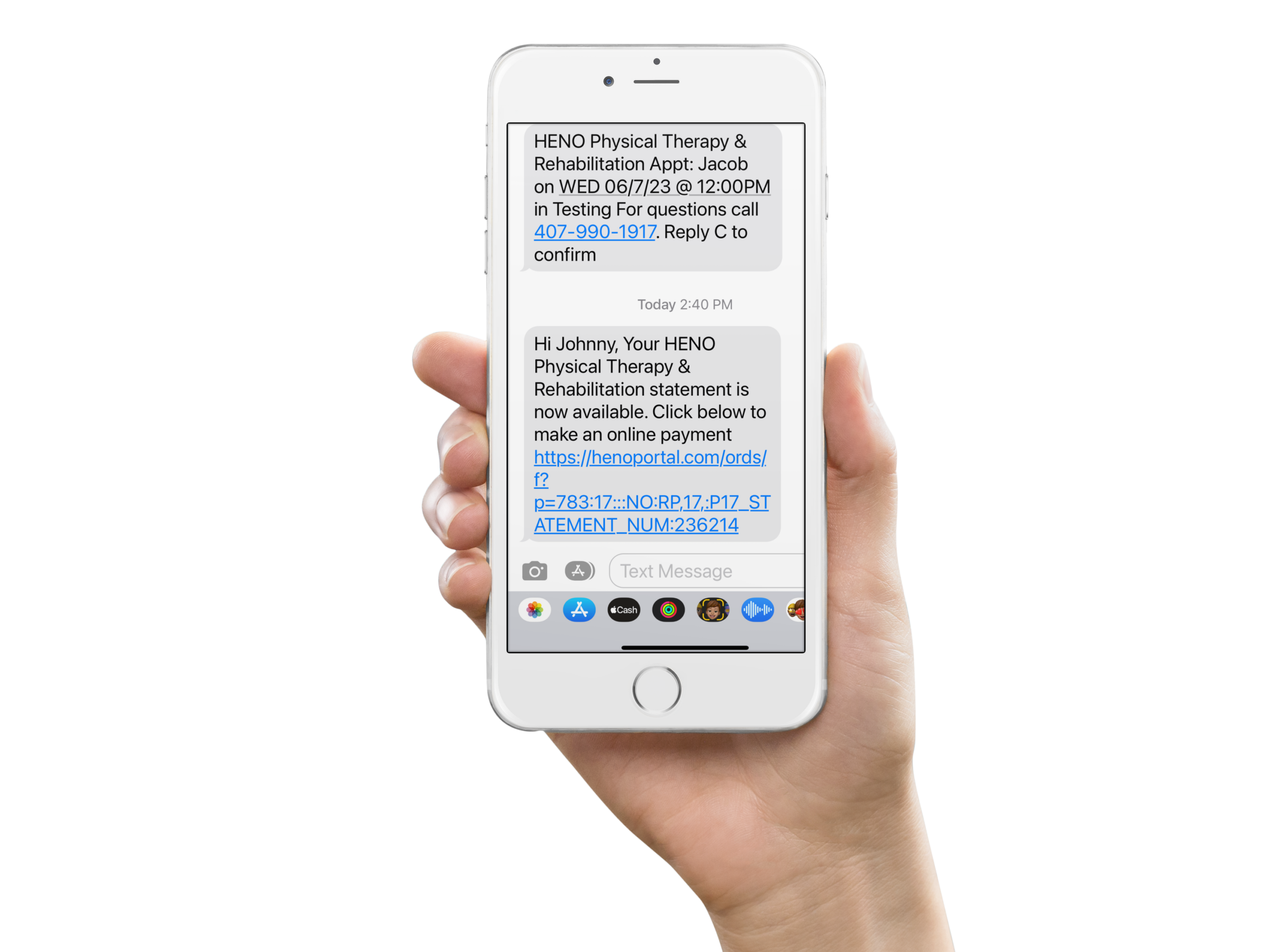 Mass Text Patient Statements
Get Paid In Minutes, Not Weeks
Claims Routing Automation
Goodbye 90 Page AR Aging Reports – Hello Automated Digital Worklists
HENO automatically routes overdue claims to Digital Claims Work Lists to ensure you never let a penny fall between the cracks. This is the great equalizer to help your clinic battle the insurance companies who deny first, and ask questions later. HENO's easy to use, yet powerful claims automation is the great equalizer.
All-In-One Benefits
The Countless Benefits of All-In-One EMR & Billing Software
Many Therapy Software vendors claim to have an all-in-one EMR and Billing Software Platform, yet if you dig into the details you discover most of them have a 5 in 1, or a 4 in 1. In other words, large software companies who acquire multiple software systems, then program them together most likely cannot claim to have All-In-One software. Why? Because branding a two seperate systems such as a billing software and an EMR, as an all-in-one simply because claims can flow from the documentation to the billing software, does not make them an all in one.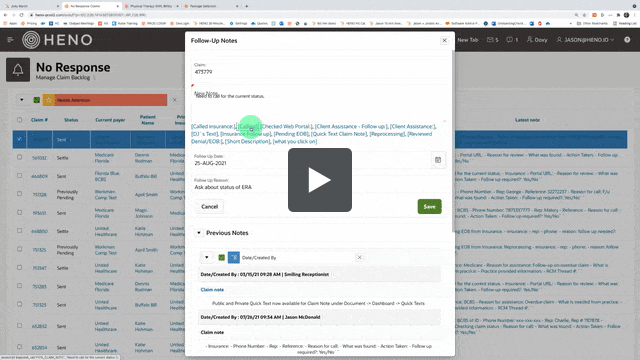 Cash-Pay Software
General Store Manages Cash-Pay Patients Like a Pro
Tired of using a totally separate software to manage retail and private pay patients? HENO's General Store will simplify your cash-pay patients in no time.
Slash up to 10 hours/week in documentation time!
Discover all the ways to streamline your practice with our end-to-end practice management platform.